Blue Cheese Steak Bites and Potato Skillet
Feb 12, 2020, Updated Apr 10, 2023
Blue Cheese Steak Bites and Potato Skillet – garlic butter sirloin steak cubes with roasted potatoes, mushrooms, and crumbled blue cheese for an easy, delicious skillet dinner.
Don't want all the extras in a recipe post? We provide a skip to recipe button in the top left corner, as well as a clickable table of contents, just below, to help make this page easier to navigate.
This is an entire steak and potatoes skillet dinner – steak main course and mushroom and potato sides – in just one skillet!
Seriously – delicious crispy sautéed potatoes, meaty mushrooms, creamy blue cheese crumbles, and hearty steak – all in one cast iron skillet!
This steak bite skillet is a hearty and delicious dinner that the whole family will love – and you won't feel bad making since it uses fresh, whole, and natural ingredients.
There are also keto and low carb swaps I am including in the recipe notes, if you want to make a keto steak bites and mushrooms skillet with blue cheese!
If you love big, bold, beefy flavors – this blue cheese steak bites and potatoes skillet dinner is for you!
And if you love this easy meaty dinner, be sure to visit my cajun butter shrimp and steak bites skillet, and my one pot cheese steak skillet!
How To Make a Perfect One Pot Steak Bites and Potatoes Skillet Dinner
Delicious, juicy, and tender steak isn't made by accident – steak can be tough, chewy, and dry when not cooked right.
While this steak bites recipe does reduce cooking time by making smaller bites of steak, the cooking can be a bit more complicated by adding other ingredients into the cast iron skillet.
These Tips will help your blue cheese steak bites and potatoes skillet dinner to be packed with tons of flavor from perfectly cooked steak!
Slice potatoes thin before cooking.
Since potatoes take longer to cook, it is important to cut your fingerling potatoes to small bite sized slices.
This will help the potatoes cook faster and crisp up more.
Use high heat.
Steak responds best to fast cooking with a very high temperature.
Cook in batches.
For the best results, I like to cook the potatoes first to crispy.
When the potatoes have softened and crisped up, remove to rest, covered with foil on baking sheets. Add bite sized steak chunks to pan and sear on high heat.
Once the steak has browned add mushrooms, salt and pepper to pan and toss in olive oil.
As soon as the mushrooms have started to brown, add potatoes back to pan and mix.
Sprinkle with blue cheese and then enjoy!
How To Cut Steak into Steak Bites
For this recipe to give the best tender and delicious steak flavor, it's important to cut your steak into small 1″ bites. It cooks faster and doesnt dry out this way!
Tips For Perfect Steak Bites
Trim off the excess fat from the meat, then cut sirloin steak into strips that are just less than 1-inch wide. Keep the shape and size of the steak cubes uniform so they can cook evenly at the same time.
If you see any more large chunks of fat, gristle or long silvery membrane, remove them from sirloin steak before cooking for best texture and taste.
What Temperature To Cook Steak Bites To
What temperature to cook steak to is a hotly contested subject. Your personal preferences will determine whether you'd like your steak bites cooked to medium rare, medium, done, or well done.
No matter how you prefer your steak, this recipe is easy to get the temperature you love, in just one pan!
For Best results, I like my steak bites cooked to medium rare, seared on the outside and a touch red in the middle.
A medium rare steak bite will cook in about 4 minutes if you're using high heat, stirring occasionally to prevent burning.
Rare steak will be very soft to the touch, almost "jello" like.
Medium rare steak will have a bit firmer texture when pressed, but still has some give.
Medium steak will be much firmer to the touch and have reduced slightly in size.
Well done steak will be much firmer to touch, and will have reduced in size.
Keto Blue Cheese Steak Bites Skillet Recipe
If you're following a keto or low cabr diet, potatoes aren't a part of your healthy eating plan.
Luckily, this recipe is an absolute knockout with a couple easy low carb ingredient swaps – you won't miss the potatoes and all the carbs that come with them!
For best results, I recommend swapping the potatoes out for one head of cauliflower, trimmed into florets. Continue with recipe as detailed below, just cooking cauliflower in the place of potatoes.
If you're not a fan of cauliflower, you can also swap out zucchini, bell peppers, or eggplant, cut into bites, and cooked as described for potatoes below.

Other Delicious One Pot Dinners You'll Love:
If you love this Blue Cheese Steak Bites and Potatoes Skillet Dinner Recipe, you're going to love these other tried and true one pot dinners!
You might also enjoy, One Pot Garlic Butter Chicken Thighs and Mushrooms, One Pot Cheesy Taco Skillet, The Best One Pot Steak Fajitas Ever Recipe, The Best Oven Broiled Ribeye Steaks with Mushrooms Recipe, Easy One Pot Garlic Butter Pork Chops and Mushrooms Recipe, One Pot Hamburger Cabbage Soup, The Best One Pot Chicken Fajitas, or One Pot Sausage Ravioli Skillet in Tomato Spinach Cream Sauce.

Blue Cheese Steak Bites and Potato Skillet Recipe
If you love this blue cheese steak bites and potatoes skillet dinner recipe as much as I do, please give it a five star review and help me share on facebook and pinterest!
CONNECT WITH SWEET C'S!
Be sure to follow me on social media, so you never miss a post!
Only have 30 minutes to get dinner on the table? Sign up for my 30 minute dinner plans direct to your inbox!
Find and shop my favorite products in my Amazon storefront here!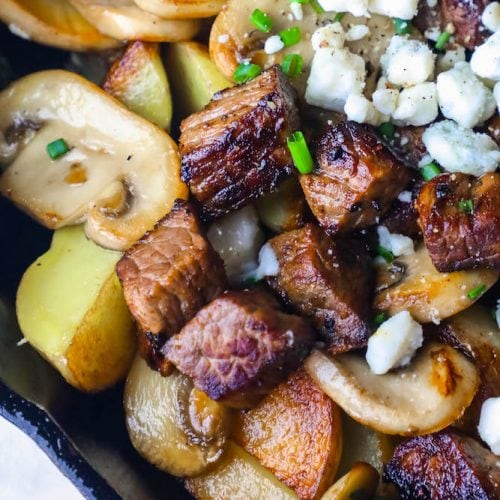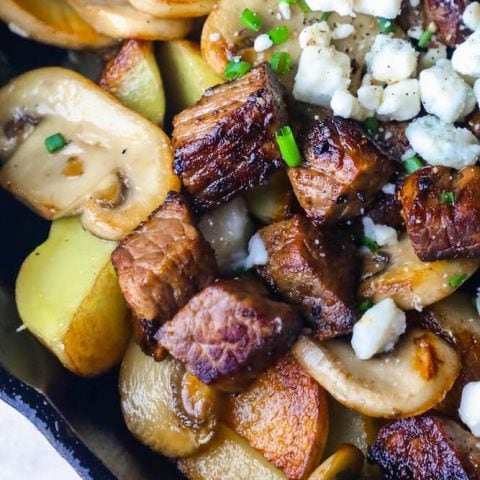 Blue Cheese Steak Bites and Potato Skillet
Blue Cheese Steak Bites and Potatoes Skillet Dinner Recipe - garlic butter sirloin steak cubes with roasted potatoes, mushrooms, and crumbled blue cheese.
Ingredients
4 tbsp clarified butter, divided - 2 tbsp each
1 lb fingerling potatoes, washed and cut into 1" bites
1 lb sirloin steak, cut into 1" squares, fat removed
8 oz cremini mushrooms, sliced
1 tsp fresh cracked pepper
1 tsp celtic sea salt
1 tsp Italian herbs
1/2 cup blue cheese crumbles
1 tbsp olive oil
1 tbsp chives, diced, optional
Instructions
In a well ventilated area, heat large cast iron pan on stove until scorching hot to the touch.
Melt 2 tbsp butter in pan.
Add sliced potatoes to pan and cook, stirring occasionally to prevent burning, until crispy golden brown - about 6 minutes.
Remove potatoes from pan and lay on metal baking sheet, covered in foil.
Generously sprinkle salt and pepper over sliced steak bites.
Add other 2 tbsp clarified butter to pan and swirl to melt.
Add steak bites to pan, making sure they aren't overcrowded.
Sear on each side until browned all over, about 3 minutes, and add mushrooms to pan.
Stir to cook until mushrooms have slightly browned.
Add potatoes back to pan and sprinkle with Italian herbs. If needed, drizzle with olive oil to toss and continue to cook for 1-2 minutes until steak is at your preferred doneness.
When steak is cooked and potatoes are golden brown and crunchy on the outside/soft in the middle, top with blue cheese crumbles.
Top with chives if desired.
Serve immediately.
Recommended Products
As an Amazon Associate and member of other affiliate programs, I earn from qualifying purchases at no extra expense to you.
Nutrition Information
Yield

4
Serving Size

1
Amount Per Serving
Calories

534
Total Fat

31g
Saturated Fat

14g
Trans Fat

0g
Unsaturated Fat

14g
Cholesterol

133mg
Sodium

847mg
Carbohydrates

26g
Fiber

3g
Sugar

2g
Protein

38g
Nutrition is automatically calculated by Nutritionix - please verify all nutrition information independently and consult with a doctor or nutritionist for any and all medical and diet advice.
Other Sweet C's Favorite Recipes
Our top reviewed recipes are just begging to be tried – many are low carb, all are easy, fast, and loaded with flavor!
Sweet C's Favorite Recipes
Favorite recipes from Sweet Cs Designs