Juicy, tender chicken and shredded cheese smooshed between a folded, crisp tortilla and topped with sour cream and salsa, these Chicken Quesadillas are what you would call perfection! Whip this quick and easy quesadilla up for a weeknight dinner, or as a gourmet appetizer.
Quick and Easy Pressure Cooker Chicken Quesadillas
Flour tortillas are topped with a generous amount of tender, juicy shredded chicken and cheese, and then pan-fried with butter for a crisp, golden crust. These quick and easy chicken tortillas are perfect for Taco Tuesday or when you're craving your favorite Mexican restaurant.
Using your Instant Pot to make shredded chicken saves you time and energy. Not only is it a great way to get tender, juicy chicken in a hurry, but you can still make this recipe even if you forgot to pull the chicken out of the freezer.
Check out my web story about these easy and delicious quesadillas!
How To Make Chicken Quesadillas
For this recipe, you'll only need 3 basic ingredients and toppings if you choose! Here's what you need to make a quick and easy Taco Tuesday dinner:
Chicken- Boneless skinless chicken breast works best for shredding chicken, but you can use any boneless skinless chicken you prefer.
Tortillas- I use burrito size flour tortillas, but you can use any type or size of tortilla that you prefer.
Cheese- Freshly shredded cheese is best for melting, but you can use pre-shredded cheese too.
Salsa- You'll use salsa with the chicken in the Instant Pot to give it added flavor.
Toppings- I top my quesadillas with salsa when they are finished, but you could use any toppings you prefer including sour cream, more cheese, or guacamole.
Gather up your ingredients and grab your Instant Pot, and then follow the steps below for a quick and easy dinner or appetizer.
First, place your chicken in the Instant Pot and top it with salsa. Close the lid, place the pressure valve into the venting position, hit pressure cook or manual, and set the time for 12 minutes.
Once your Instant Pot beeps, let it naturally release for 10-minutes. Then, flip the pressure valve to the venting position to release the rest of the pressure.
Remove the chicken from the Instant pot and use two forks to shred it. Then, put it back in the pot with the salsa and stir.
Drain the excess liquid from the chicken using a colander or mesh strainer.
Lay a tortilla on a flat surface or directly in a large skillet.
Sprinkle a layer of cheese onto half of the tortilla, layer the chicken over the cheese, and then add another layer of cheese on top of the chicken. Fold the tortilla in half.
Turn the stove on medium heat and cook the tortilla 3-5 minutes or until the bottom has browned slightly. Then, use a spatula to flip the tortilla and continue cooking for an additional 3-minutes.
Repeat this process until you've used all the tortillas.
Serve with toppings of your choice and enjoy!
Tips and Tricks to Perfect Chicken Quesadillas and FAQs:
The Instant pot will take about 10-15 minutes to come to pressure. Once it reaches pressure, the time will count down.
Use more or less cheese and chicken in each tortilla depending on how hearty you like your quesadillas.
Be sure to layer the quesadillas. Layering cheese on both the top and bottom melts everything together so you don't have to worry about your ingredients escaping.
Use a pizza cutter to cut the quesadillas into triangles.
FAQs
What temperature should I cook the quesadillas?
For this recipe, you are cooking in two parts. First, you will use high pressure cooking when cooking your chicken in the Instant Pot. Then, you will brown your tortillas while melting the cheese over medium heat on your stovetop. 
How long does this recipe take to make?
Prepping will only take you a couple of minutes. The chicken will take about 22-27 minutes to cook, and then it will take an additional 20-minutes to brown all of your quesadilla. So, you should be able to serve dinner in about 42-minutes using this recipe. 
Can I add veggies to my quesadillas?
Absolutely! Bell peppers, corn, mushrooms, and onions are all great additions to your chicken quesadillas. Get creative and add whatever veggies you like. 
Can I use two tortillas instead of one?
Sure. I like to use one tortilla instead of two when making quesadillas because I find it easier to flip a folded tortilla without losing any of the filling. But, you could use two tortillas if you prefer. 
How do I store leftovers?
You can store both the assembled chicken quesadillas as well as any leftover chicken in your refrigerator. 

To store your quesadillas, simply put them in an airtight container or ziploc bag and place them in the refrigerator where they will last for up to 3-days. To reheat your quesadillas, you can microwave them for 30-45 seconds, crisp them up on low heat in a skillet, or put them in the oven at 300? for 2-minutes. 

If you have leftover chicken, place it in an airtight container and store it in the refrigerator for up to 3 days. Or, you can store it in a Ziploc freezer bag in the freezer for up to 4-months. Use leftover chicken for tacos, rice bowls, nachos, or salad. 
What To Serve With Chicken Quesadillas
Chicken quesadillas pair well with any Mexican cuisine side dishes. One Pot Mexican Risotto, Black Bean Salad, and Spanish Rice are some of my favorite sides to add for a complete meal! You could also serve them with chips and dip like my Easy Fried Tortilla Chips and Cheesy Green Chile and Pepper Dip.
Additionally, Green Chile Guacamole makes a great topping on these quesadillas as well as the perfect dip to use with my Easy Keto Tortilla Chips.
To find more Instant Pot recipes, click here.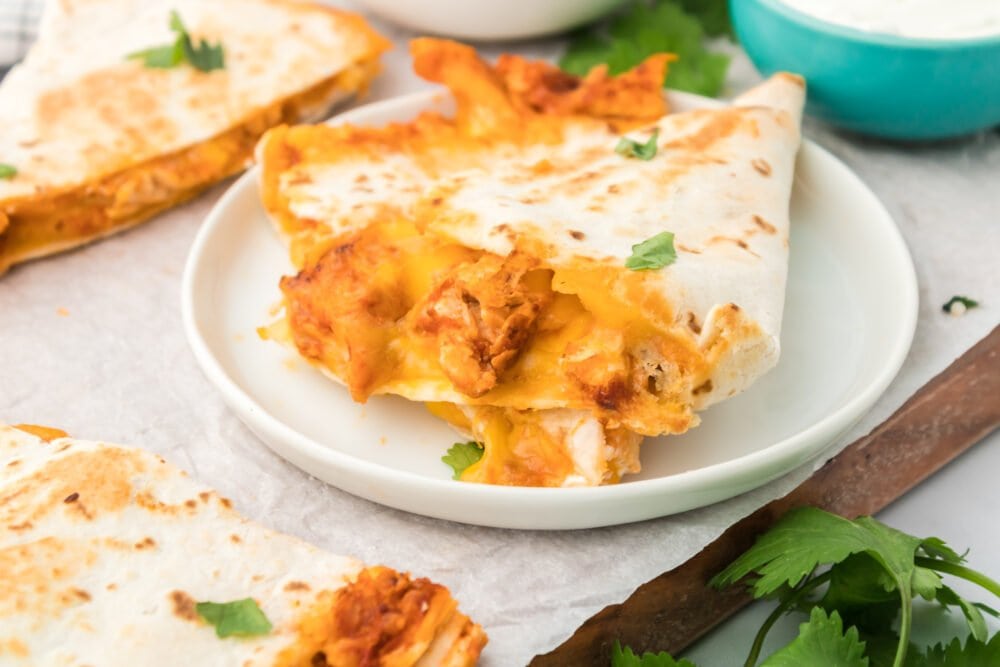 Instant Pot Chicken Quesadillas
If you love this easy recipe please click the stars below to give it a five star rating and leave a comment! Please also help me share on facebook and pinterest!
CONNECT WITH SWEET C'S!
Be sure to follow me on social media, so you never miss a post!
Facebook | Twitter | Youtube | Pinterest | Instagram
Only have 30 minutes to get dinner on the table? Sign up for my 30 minute dinner plans direct to your inbox!
Find and shop my favorite products in my Amazon storefront here!
Yield:

4
Instant Pot Chicken Quesadillas
Juicy, tender chicken and shredded cheese smooshed between a folded, crisp tortilla and topped with sour cream and salsa, these Chicken Quesadillas are what you would call perfection! Whip this quick and easy quesadilla up for a weeknight dinner, or as a gourmet appetizer. 
Ingredients
1 pound chicken breast
8 ounces jarred salsa
4-5 large flour tortillas
2 cups cheddar cheese, shredded
Instructions
Place chicken in instant pot and pour salsa over top.
Close pressure valve and set MANUAL pressure on high for 5 minutes (or 10 if using frozen chicken breasts).
Once timer beeps, allow 5 minutes before releasing the pressure valve.
Shred chicken on cutting board with 2 forks and place back into pot, stirring to combine.
Let rest for 5 minutes.
Strain chicken in a fine mesh strainer or colander.
Place 1 flour tortilla in a large skillet.
Top half with cheese, then chicken, and top with more cheese.
Fold in half and cook on medium heat for about 5 minutes or until tortilla starts to brown.
Flip and cook another 3-5 minutes.
Slice into triangles with pizza cutter.
Serve with sour cream and salsa.
Notes
*You can use fresh or frozen chicken breast.  If using frozen, set pressure to 10 minutes instead of 5.  
*Straining the chicken prevents the tortilla from getting soggy.
*Freshly shredded cheese is best, but you can use pre-shredded as a shortcut.
*Store leftover chicken in sauce in refrigerator for up to 2 days.  If using fresh chicken, leftovers can be frozen in freezer bag or freezer-safe container for up to 3 months.  Defrost contents in container in bowl of warm water.  Heat in saucepan or in microwave.  Strain before using.
Nutrition Information
Yield
4
Serving Size
1
Amount Per Serving
Calories

631
Total Fat

27g
Saturated Fat

13g
Trans Fat

1g
Unsaturated Fat

11g
Cholesterol

152mg
Sodium

1149mg
Carbohydrates

40g
Fiber

3g
Sugar

3g
Protein

54g
Nutrition is automatically calculated by Nutritionix - please verify all nutrition information independently and consult with a doctor or nutritionist for any and all medical and diet advice.