Perfect Smoked Turkey - the best method for tender, juicy, crave-able smoked turkey ever! This keto smoked turkey is the perfect addition to any Thanksgiving table!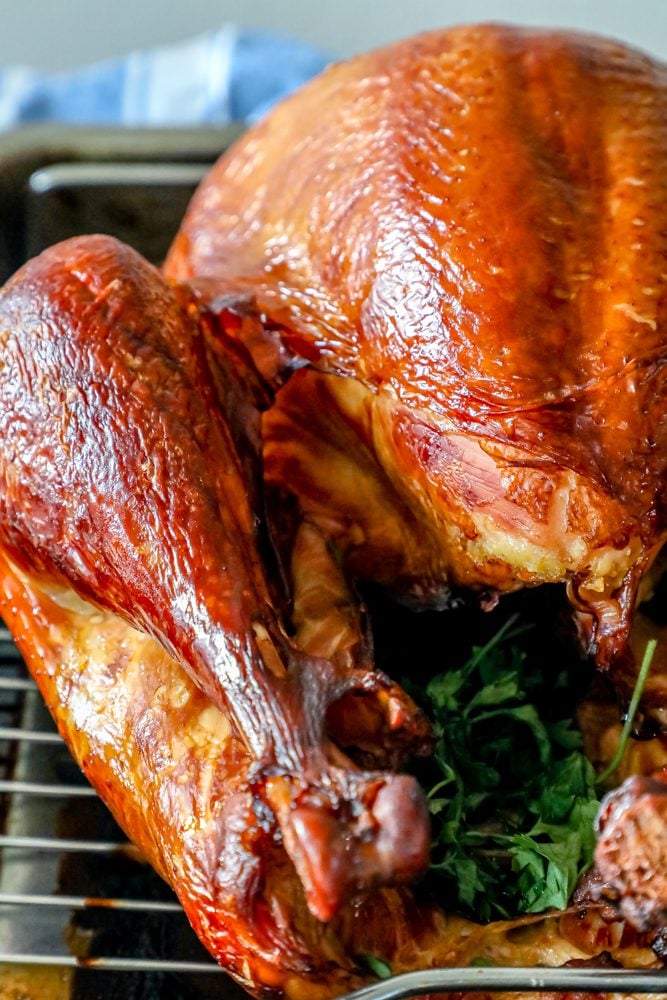 Turkey is always one of the most feared parts of Thanksgiving for most home cooks- which stinks, since it is the star of Thanksgiving dinner!
But there is no need to be worried of dry, tasteless Turkey- this Perfect Smoked Turkey recipe has been our family's secret for delicious, juicy, perfectly-smoky flavored turkey.
And the best part is, it's pretty foolproof.
If you're somewhat familiar with using a smoker grill, you know how easy it can be to create wonderful flavor without much actual work.
All you need to to for the tastiest turkey ever is just Brine, Stuff and Smoke.
Save your oven space for other foods and keep your kitchen from overheating- smoke that turkey outside!
My husband LOVES breaking out our smoker to make pork shoulder, brisket and other meats- but we don't use it nearly enough.
It is so easy to get delicious, melt in your mouth, perfectly smoky meat using a smoker grill and indirect heat.
We've made our last few Thanksgiving turkeys on the smoker, and we should do more!
When Is Smoked Turkey Done
It can be a bit tricky to tell when your smoked turkey is done - because smoking turkeys can give it a pinkish hue.
This isnt because it is uncooked- it is because smoking meat gives a little bit of a purple-ish color.
When you carve your turkey, you will notice a "ring" of darker color around the meat.
This is the coloring from the smoke- and where your flavor is coming from!
You might notice in the photo above the legs look especially purple- it's from the smoke.
Your turkey will be cooked when a digital thermometer inserted into the fattest part of the turkey breast reads 160 degrees (it will carryover cook to 165 degrees after tenting with foil out of the oven).
The USDA recommends getting turkey's internal temperature to 165 degrees.
How To Finish Smoked Turkey in Oven
If it is especially cold outside (we made the turkey photographed when it was under 40 degrees outside, not uncommon for Colorado), you can finish your turkey in the oven if you haven't brought it up to 170 degrees yet.
Just pop it in the oven and cook at 350 until internal temp reaches 170 degrees (it will continue to cook to 175 degrees when you remove it from the oven).
You can baste the turkey with a little melted butter for extra crispy skin like I did below - it makes a lovely crunch and finishing touch to your smoked turkey.
This method won't make a gravy, however.
Simply remove the giblets and neck of the turkey and roast those in the oven for your gravy.
They take up much less precious oven space and cook more quickly.
For a perfect gravy to go with your smoked turkey, please visit my Easy Turkey Gravy Recipe!
Tips For Smoking a Turkey
If you're not very familiar with using a smoker, I asked my husband to add some tips and tricks to make smoking a turkey easy. Here's his best tips:
-- Use a chimney to bring your lump charcoal up to temperature.
-- Use real lump charcoal. Briquets tend to give off a petroleum aftertaste.
What Wood To Use For Smoked Turkey
If you're using wood-chips or chucks, you can control how much smoke your meat gets.
Want alot of smoke? Use more wood chips, for longer amount of time.
Want less smoke? Use less chips, for a shorter amount of time.
White oak, pecan and cherry are beautiful, mild smoking woods for poultry.
Mesquite has a stronger smoke flavor, but still very tasty with poultry.
Hickory is a very strong wood, which is great for beef, but I would avoid for poultry.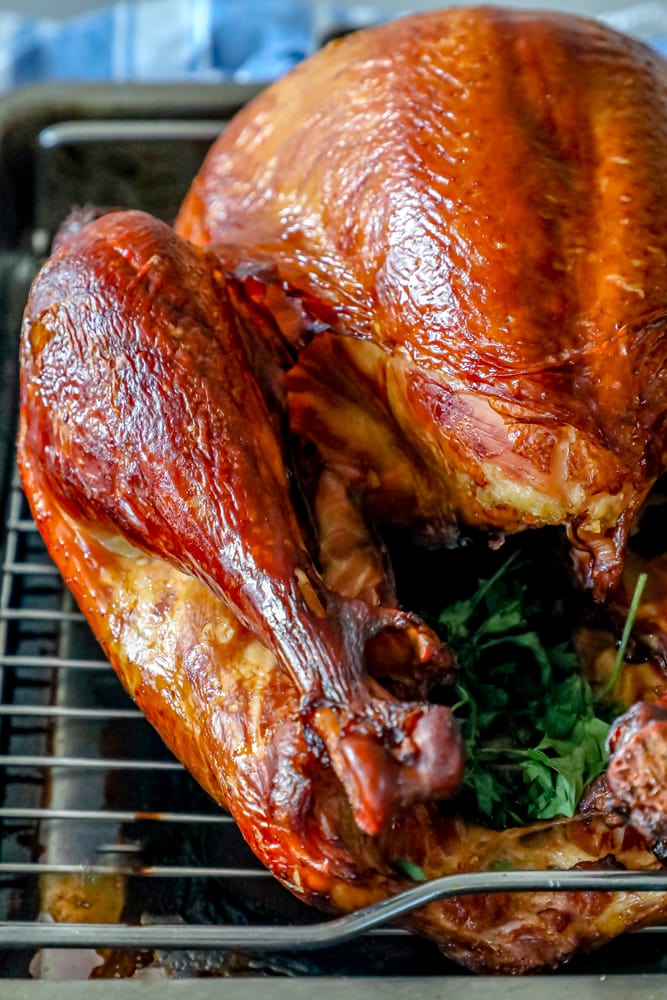 What to Serve With Smoked Turkey
If you're looking for the best sides to serve with smoked turkey, I am rounding up my favorites below.
Perfect Smoked Turkey Recipe
If you love this perfect smoked turkey recipe as much as I do, please give it a five star review (simply click the stars) and help me share on facebook and pinterest!
CONNECT WITH SWEET C'S!
Be sure to follow me on social media, so you never miss a post!
Facebook | Twitter | Youtube | Pinterest | Instagram
Only have 30 minutes to get dinner on the table? Sign up for my 30 minute dinner plans direct to your inbox!
Find and shop my favorite products in my Amazon storefront here!
Yield:

6
Perfect Smoked Turkey
Perfect Smoked Turkey - the best method for tender, juicy, crave-able smoked turkey ever! This keto smoked turkey is the perfect addition to any Thanksgiving table!
Ingredients
Brine:
1 cup kosher salt
½ cup light brown sugar
1 gallon vegetable stock
2 tablespoon black peppercorns
1 ½ teaspoons allspice berries
1 ½ teaspoons rosemary
2 teaspoons savory
1 gallon iced cubes
Turkey:
1 turkey, 12-14lb
Bag of charcoal
Chips or chunks for smoking (fruit wood or oak)
Instructions
Bring all ingredients, except ice to a boil.
After you reach a rolling boil, turn off heat and let cool.
Combine cooled brine with ice inside a garbage bag in a beverage cooler.
Submerge turkey and seal cooler.
Remove turkey from brine and allow to come to room temperature. Leave uncovered and allow to air dry.
2. Light your smoker 30-45 minutes before you intend to start cooking your turkey.
3. Cover the turkey with a wet cheese cloth or thin kitchen towel (one you're prepared to throw away).
4. When your smoker reaches 235-250 degrees, add the turkey directly on the cooking grates.
5. Check your fire and rotate your turkey every 30 minutes, adding charcoal and wood chips/chunks as necessary.
6. Smoke your turkey at 235-250 degrees for 30-40 minutes per pound (a 12lbs turkey will take approximately 6 hours to smoke), until it reaches an internal temperature of 160 degrees.
7. Remove for smoker, cover, and let rest for 30 minutes before carving.
Nutrition Information
Yield
6
Serving Size
1
Amount Per Serving
Calories

110
Total Fat

2g
Saturated Fat

0g
Trans Fat

0g
Unsaturated Fat

1g
Cholesterol

4mg
Sodium

15506mg
Carbohydrates

21g
Net Carbohydrates

0g
Fiber

2g
Sugar

15g
Sugar Alcohols

0g
Protein

3g
Nutrition is automatically calculated by Nutritionix - please verify all nutrition information independently and consult with a doctor or nutritionist for any and all medical and diet advice.