Rotisserie Prime Rib Roast Recipe - perfect blushing pink prime rib with a smoky crunchy crust and tender juicy meat on a rotisserie grill!
Don't want all the extras in a recipe post? We provide a skip to recipe button in the top left corner, as well as a clickable table of contents, just below, to help make this page easier to navigate.
If you love ribeye roast or prime rib - you're going to LOVE this recipe.
We're taking classic tender, delicious prime rib and knocking it out of the park with flavor with this rotisserie prime rib - with a perfect crunchy crust cooked to a perfect medium rare.
This prime rib is similar to our Easy Prime Rib - but with an even more delicious crunchy crust, thanks to the way the rotisserie lets the roast's fat melt and self-baste as it cooks.
We used our kamado joe (to see our model, click here) with the rotisserie attachment.
If you have a Traeger grill and rotisserie, Big Green Egg, or other grill and automatic rotisserie attachment, this recipe will knock your socks off!
Serve this juicy, tender prime rib up with horseradish, take it over the top and pair it with our Broiled Lobster Tails, our light and fluffy buttery soft dinner rolls, garlic butter roasted potatoes, or perfect creamy keto mashed cauliflower - or one of our knockout side dishes, and you have a meal nobody will forget anytime soon!
Tips to Perfect Rotisserie Prime Rib
How to tie prime rib. While my Easy Prime Rib and Best Ever Ribeye Roast recipes are designed to be fantastic without tying, it is absolutely essential to tie your prime rib roast for this recipe to keep it together on the rotisserie.
To tie a prime rib, tie 4-5 tight knotted loops around the roast, using a good quality kitchen twine.
Don't worry much about how your roast looks tied - focus on making your roast tightly squeezed together.
When your roast is tied together tightly, insert the rotisserie attachment forks into your roast, and you're ready to get it over the grill!
When you're ready to serve, simply cut away the twine with kitchen scissors.
What rotisserie to use. We used our Kamado Joe with the rotisserie attachment - but any large outdoor grill or smoker you can user with a rotisserie attachment will work. To find our Kamado Joe, click here. For the rotisserie attachment for Kamado Joe (some egg shaped smokers also can work with Kamado attachments) click here. We prefer using a high quality lump charcoal - for the Cowboy Lump Charcoal we use, click here.
This rotisserie prime rib recipe was designed to be easy enough for even beginner cooks - but there are a few tips we found to help you get perfect delicious prime rib, every time you make it.
Bring roast to temperature before roasting. For the most tender, delicious meat, it helps to have your roast at room temperature before cooking. Since a prime rib is large, it takes about 1 ½ - 2 hours to bring the meat to room temperature. We like to season the prime rib and leave, covered with a bit of plastic wrap or a kitchen towel (don't worry about wrapping tightly) on the counter until the meat isn't so cold.
Season prime rib properly. For us, there is nothing better than a salty, crunchy crust on the prime rib. To make sure you're getting a salty, flavorful crust, you need to use the right salt. We're calling for kosher or Celtic salt in this recipe - because the crunchy, coarse salt brings the best flavor and is lower in sodium. If you use table salt, reduce the amount of salt by half. If you'd like a bit of a spicy kick for your prime rib, we really, really, really love the smoky-spicy flavor of Aleppo pepper sprinkled over prime rib. Use 1-2 tbsp, according to your tastes.
Let prime rib rest. Prime rib absolutely needs to rest before slicing so that the juices can re-absorb back into the meat. If you slice your prime rib too soon, all of the juices will run out, leaving your roast tough and dry. For a large cut of meat, resting the prime rib should take 30-40 minutes. Place a sheet of foil, tented, over the roast and let it sit until ready to carve.
What temperature to cook prime rib to. It is essential to this recipe to have a high quality meat thermometer - we prefer ThermoWorks meat thermometers because they are quick, ultra-reliable, and last a long time.
Prime rib is best medium rare - which will take about 2 hours 20 minutes rotisserie time.
For each of these cook times, you will actually be looking for 10 degrees under your target for when you pull the roast off the grill.... because it will continue to cook as you tent it in foil.
The temperature below shows when to REMOVE prime rib from rotisserie - it will cook another 10 degrees while tented with foil.
For rare prime rib, the temperature should be 105-110 degrees.
For medium rare to medium prime rib, the on-spit temperature should be 110 to 115 degrees Fahrenheit.
For well done prime rib the on-grill temperature should be 130 to 135 degrees Fahrenheit.
You can adjust your cooktime based on those temperatures - and remember the sides will be closer to well done while the middle will be much more red/pink - so you can still serve everyone a slice they prefer.
Recipe FAQs
When should I take prime rib off rotisserie?
For a perfect medium rare (blushy pink) throughout, remove your prime rib from the rotisserie at 110 degrees internal temperature and tent with foil for at least 30 minutes.
How long should prime rib rest before slicing?
Let prime rib roast cool and rest at least 25 minutes before carving. We prefer 30-40 minutes.
What temperature should I grill at?
For rotisserie prime rib, we find a grill temperature at 350 degrees to be ideal for prime rib and standing ribeye roasts.

What to Serve With Prime Rib
Prime rib is a delicious hearty meal - and great for holiday dinners, Sunday suppers - or even a decadent dinner party! To see more of our side dishes, please click here.
And if you're looking for keto side dishes that will knock your socks off, please check out our keto side dish recipe archives.
Our favorite easy dishes that pair perfectly with this rotisserie prime rib are below:
Easy Rotisserie Prime Rib Recipe
If you love this easy recipe please click the stars below to give it a five star rating and leave a comment! Please also help me share on facebook and pinterest!
CONNECT WITH SWEET C'S!
Be sure to follow me on social media, so you never miss a post!
Facebook | Twitter | Youtube | Pinterest | Instagram
Only have 30 minutes to get dinner on the table? Sign up for my 30 minute dinner plans direct to your inbox!
Find and shop my favorite products in my Amazon storefront here!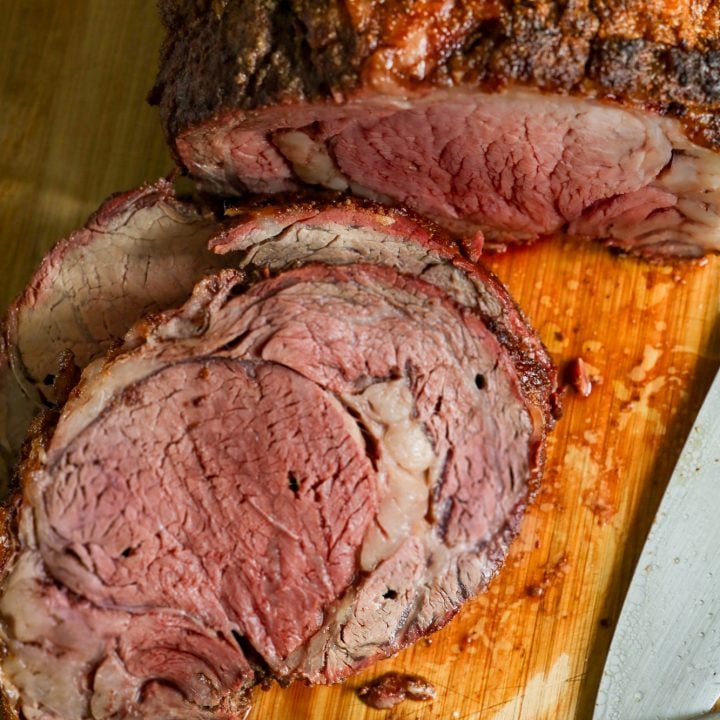 Yield:

1 prime rib roast
The Best Rotisserie Prime Rib
Prep Time (Inactive):
2 hours
Cook Time:
2 hours
3 seconds
Total Time:
4 hours
45 minutes
3 seconds
Rotisserie Prime Rib Roast Recipe - perfect blushing pink prime rib with a smoky crunchy crust and tender juicy meat on a rotisserie grill!
Ingredients
1 prime rib roast, about 5 pounds (bone in or boneless)
1 tablespoon fresh cracked pepper
1 tablespoon garlic powder
2 tablespoons kosher, Celtic, or other coarse salt (reduce if using table salt - we prefer coarse salt for this recipe)
2 tablespoon Italian seasonings or Aleppo pepper (optional)
Instructions
Remoive roast from refrigerator and tie tightly, using 4-5 loops of kitchen twine.
Season roast well.
Let roast come to room temperature, about 2 hours.
Ready your grill - bring grill temperature to 350 degrees, using high quality lump charcoal.
Insert rotisserie forks into prime rib roast.
Place roast into rotisserie attachment for egg-shaped grill, Traeger grill, or other outdoor rotisserie.
Cook roast over charcoal for 2 - 2 ½ hours, until internal temperature is 110-115 (for medium rare). Go off temperature, NOT time. Keep grill temperature around 350 as you cook, adjusting as needed to maintain temperature.
Remove prime rib from rotisserie and tent, loosely, with foil until meat rests for 30-45 minutes.
Slice and serve.
Recommended Products
As an Amazon Associate and member of other affiliate programs, I earn from qualifying purchases at no extra expense to you.
Nutrition Information
Yield
6
Serving Size
1
Amount Per Serving
Calories

62
Total Fat

4g
Saturated Fat

2g
Trans Fat

0g
Unsaturated Fat

2g
Cholesterol

12mg
Sodium

1068mg
Carbohydrates

3g
Fiber

1g
Sugar

0g
Protein

4g
Nutrition is automatically calculated by Nutritionix - please verify all nutrition information independently and consult with a doctor or nutritionist for any and all medical and diet advice.
If you love this easy recipe as much as we do, be sure to check out our other reader favorite recipes!
These tried and true reader favorites are full of flavor your family will love.
Sweet C's Favorite Recipes
Favorite recipes from Sweet Cs Designs