White Chocolate Dipped Ghost Cookies
These adorable spooky ghost cookies are a simple fun way to get in the Halloween spirit with your kids.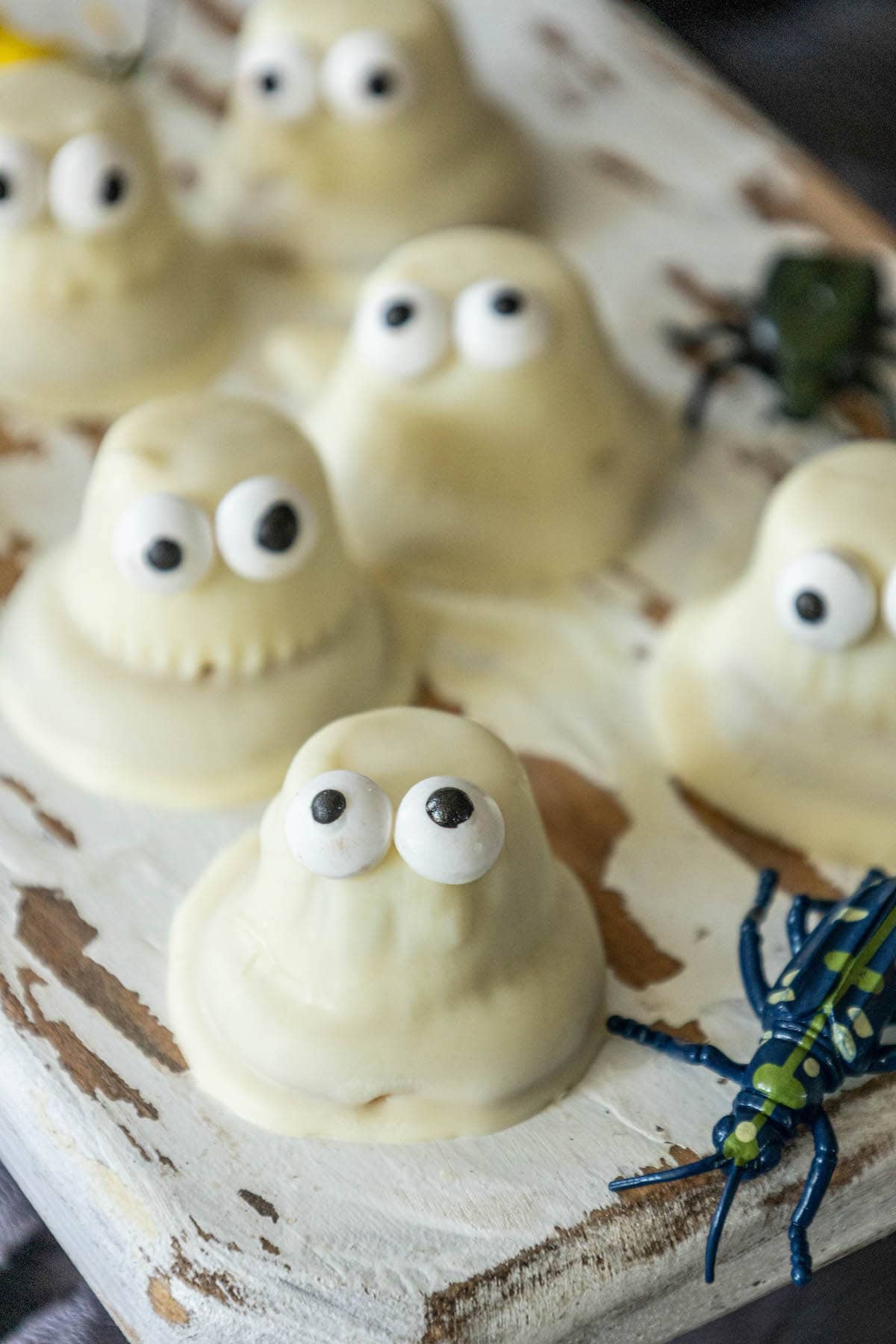 Don't want all the extras in a recipe post? We provide a skip to recipe button in the top left corner, as well as a clickable table of contents, just below, to help make this page easier to navigate.
Easy Ghost Cookies
Halloween is one of my favorite times of the year. My family loves to put up our creepy crawly decorations and have our annual Halloween costume party. These ghost cookies are always a huge hit and they are sure to become a staple in your family at Halloween.
My kids love to help in the kitchen but most recipes are a little too advanced for them. This is one that they can assemble and do themselves and they love adding the edible eyes. Warning, your ghost cookies may end up covered in edible eyes if your kids assemble them.
How To Make Dipped Ghost Cookies
To make this recipe, you'll need:
Golden Oreos: Golden Oreos are used as the base cookie for these ghost-dipped cookies. Their light color makes them ideal for coating with white candy coating to achieve the ghostly appearance. They provide the foundation for the sweet and crunchy texture of the cookie.
White Chocolate Peanut Butter Cups: White chocolate peanut butter cups serve as the "head" of the ghost. They not only contribute a delicious peanut butter flavor but also provide the shape for the ghost's form. While traditional peanut butter cups can be used, they might require more coating to achieve a fully white appearance.
White Chocolate Candy Coating: White chocolate candy coating is a key ingredient that gives the ghost-dipped cookies their ghostly appearance. It's a mixture of white chocolate with added oils and milk solids, making it perfect for creating a smooth and white coating. This coating not only adds sweetness but also provides the iconic ghost look.
Edible Eyeballs: Edible eyeballs are used to give the ghosts their playful and slightly spooky appearance. They serve as the eyes of the ghosts and add a fun element to the cookies. If you can't find edible eyeballs, you can refer to the provided tip #1 for an alternative.
Once you've gathered your ingredients, we will use the following method:
Prep – Set a piece of parchment paper over a baking tray. Melt the chocolate candy coating in a bowl in the microwave.
Dip – Place an oreo on a spoon then put a white chocolate peanut butter cup on the cookie upside down. Pour white chocolate over the cookie and cup and place 2 edible eyes on the top.
Set – Set the ghosts on the parchment paper and set them in the freezer to set for at least 10 minutes.
Enjoy- Enjoy!
Tips and Tricks to Perfect Dipped Ghost Cookies:
Here are some tips and tricks to help you when making these spooky treats.
Make your own edible eyeballs. To make edible eyeballs you will need some white chocolate chips and some dark chocolate chips. Melt each in the microwave then put a larger dot of melted dark chocolate on a piece of parchment paper and refrigerate to set for about 5 minutes. Then use a toothpick to add a smaller amount of melted white chocolate to the center of the dark chocolate dots. Refrigerate again to set then they are ready for your ghost cookies.
Keep frozen till you need them. These cute little ghosts will stay good in the freezer so feel free to make them ahead of time and freeze them until you need them. It's a great way to not eat them all at once. 
Use Disposable Gloves: When handling the white chocolate candy coating, consider wearing disposable food-safe gloves. This will help keep your hands clean and prevent fingerprints on the white coating.
Chill the Peanut Butter Cups: Before dipping, chill the white chocolate peanut butter cups in the refrigerator for a short time. This makes them easier to work with and helps the candy coating set faster.
Double Dip for a Smooth Finish: To achieve a smooth and even white coating, consider dipping the peanut butter cups twice. Allow the first coat to set before applying the second one. This extra layer can help achieve a more ghostly appearance.
Use Edible Eyeballs or Make Your Own: Edible eyeballs add a fun touch to the cookies. If you can't find them, consider making your own edible eyes using mini chocolate chips or small candy decorations and a small amount of white candy coating.
Work Efficiently: Once you start dipping and coating the peanut butter cups, work efficiently. The white chocolate coating can set quickly, so have everything ready, including your edible eyeballs, before you begin.
Let Excess Coating Drip: After dipping the peanut butter cups, allow any excess coating to drip off. This helps create a more even and tidy appearance.
Use Parchment Paper or Silicone Mats: Place the dipped peanut butter cups on parchment paper or silicone baking mats to prevent sticking. It also makes cleanup easier.
Set in the Refrigerator: After dipping and decorating, place the cookies in the refrigerator to set completely. This will ensure that the candy coating hardens and the cookies hold their shape.
Store Properly: Once the ghost-dipped cookies are set, store them in an airtight container at room temperature or in a cool place. Avoid storing them in direct sunlight or a warm environment, as this can cause the candy coating to soften.
Have Fun with Decorations: Get creative with your ghost decorations. You can use edible markers to draw fun faces on the ghosts or experiment with different sizes and shapes of edible eyeballs.
FAQ's:
How can I store these cookies?
Place the cookies in an airtight container or on a platter wrapped with plastic wrap in a single layer, do not stack them or the chocolate will stick to the other cookies. These will stay fresh for up to 3 days if wrapped tightly. 
Can I use regular peanut butter cups or do I need to use white chocolate?
Yes, you can use regular chocolate peanut butter cups if you prefer. However, note that achieving a fully white ghostly appearance might be more challenging with dark chocolate peanut butter cups.
What can I use as an alternative to white chocolate candy coating?
If you can't find white chocolate candy coating, you can use white chocolate chips or white chocolate bars. Simply melt them in the microwave or over a double boiler until smooth and creamy, then use the melted white chocolate for dipping.
Can I use homemade peanut butter cups for this recipe?
Yes, you can use homemade peanut butter cups if you prefer. Making your own allows you to control the ingredients and customize the filling. Just be sure they are properly set before dipping.
Where can I find candy eyeballs for decorating?
Edible eyeballs are often available in the baking or seasonal section of grocery stores, especially around Halloween. You can also find them in craft stores or online baking supply shops. You can also buy some here.
How far in advance can you make Halloween Ghost Dipped Cookies?
You can make these ghost-dipped cookies a few days in advance of Halloween. Store them in an airtight container in a cool, dry place. Avoid direct sunlight or heat, as this can cause the candy coating to soften.
Can I freeze ghost dipped cookies?
While you can freeze these cookies, keep in mind that the texture of the candy coating may change slightly upon thawing. If you choose to freeze them, place them in an airtight container with layers separated by parchment paper and freeze for up to one month.
Can I use regular oreos or do I need to use golden oreos?
While golden Oreos are commonly used for this recipe due to their color and flavor, you can experiment with other cookies as well. Vanilla wafer cookies or shortbread cookies could be suitable alternatives.
Can I add flavorings or extracts to the white chocolate coating for different tastes?
Yes, you can add flavorings or extracts to the white chocolate coating to customize the flavor. A drop of vanilla extract or a hint of almond extract can add a subtle flavor twist to your ghost-dipped cookies.
What to Serve With Ghost Cookies
If you and your little ones enjoyed making this recipe try our Frankenstein Cookies , our Halloween Oreo Rice Krispie Treats, some simple Halloween Bark, a delicious and simple Easy Pumpkin Dump Cake, or our Pumpkin Magic Bars Recipe!
For more of our Halloween ideas, find our recent posts below:
White Chocolate Dipped Ghost Cookies Recipe
If you love this easy recipe please click the stars below to give it a five star rating and leave a comment! Pease also help me share on facebook and pinterest!
CONNECT WITH SWEET C'S!
Be sure to follow me on social media, so you never miss a post!
Only have 30 minutes to get dinner on the table? Sign up for my 30 minute dinner plans direct to your inbox!
Find and shop my favorite products in my Amazon storefront here!
White Chocolate Dipped Ghost Cookies
Easy dipped cookies that look just like spooky ghosts!
Ingredients
12 Golden oreos OR Nilla Wafers
12 white chocolate peanut butter cups, wrapper off
16oz of white chocolate candy coating 
Edible eyeballs 
Instructions
Set a piece of parchment paper on a baking sheet.
Melt the white chocolate candy coating in the microwave in 30 second intervals until smooth.
Place a mini oreo on a spoon and a peanut butter cup upside down on top of the oreo.
Hold the spoon over the bowl of melted white chocolate and using another spoon, coat the cookie and peanut butter cup in white chocolate.
Set the little ghosts on the parchment paper and place two edible eyes on each ghost.
Place it in the freezer for 10 minutes to set the chocolate then enjoy!
Recommended Products
As an Amazon Associate and member of other affiliate programs, I earn from qualifying purchases at no extra expense to you.
Nutrition Information
Yield

12
Serving Size

1
Amount Per Serving
Calories

243
Total Fat

116g
Saturated Fat

27g
Trans Fat

0g
Unsaturated Fat

69g
Cholesterol

8mg
Sodium

1024mg
Carbohydrates

146g
Fiber

18g
Sugar

88g
Protein

52g
Nutrition is automatically calculated by Nutritionix - please verify all nutrition information independently and consult with a doctor or nutritionist for any and all medical and diet advice.