The Best Easy Broiled Lobster Tails Recipe - the easiest, most delicious way to make broiled lobster tails in your oven in just 10 minutes!
The best juicy, tender, and delicious recipe to broil lobster tail in the oven for a restaurant style lobster tail dinner in under 10 minutes - perfect to dip in melted butter or a butter sauce!
This super easy Broiled Lobster Tails Recipe is the absolute best way to cook lobster, ever!
We're giving this dish a slightly smoky flavor with a touch of paprika, as well as a sweet and salty hit of butter to bring out that sweet, delicious clean seafood flavor.
If you want a never fail easy oven baked lobster tails recipe, this is it!
I'm going to give you all the steps and information to be a master cooking lobster tails - so you can wow your friends and family with this elegant dish... nobody has to know how easy it is.
Serve with prime rib, pork tenderloin, bacon wrapped scallops, buttery soft rolls, French Vin Chaud, or some Easy Champagne Jello Shots for a memorable romantic dinner!
And want to try an even easier version? Check out the Instant Pot Lobster Tails recipe based off this very recipe!

At Sweet C's, we have lots of types of readers: those who'd like more information to feel more comfortable in the kitchen, those who'd just like the recipe, and some who want a bit of info before getting straight to it.
To better serve all readers, we have a "skip to recipe" button in the top left corner of each page to save you from scrolling.
We also have a clickable table of contents below that can help you navigate quickly through our recipe.
Like most seafood, when overcooked, lobster and lobster tail is just a mess.
It is really a shame because it's so expensive- it ought to always taste fabulous!
This method to prepare lobster tails won't leave you with gummy, fishy flavor- and it's one of my favorite tricks I learned from working at a Country Club during the monthly lobster night.
It is the perfect easy romantic lobster dinner - and great for Valentine's Day, Mother's Day, Birthdays, and Anniversaries!
I've even been told my easy baked lobster recipe was made by one readers fiance as he proposed - this lobster tail dinner is perfect for a proposal dinner!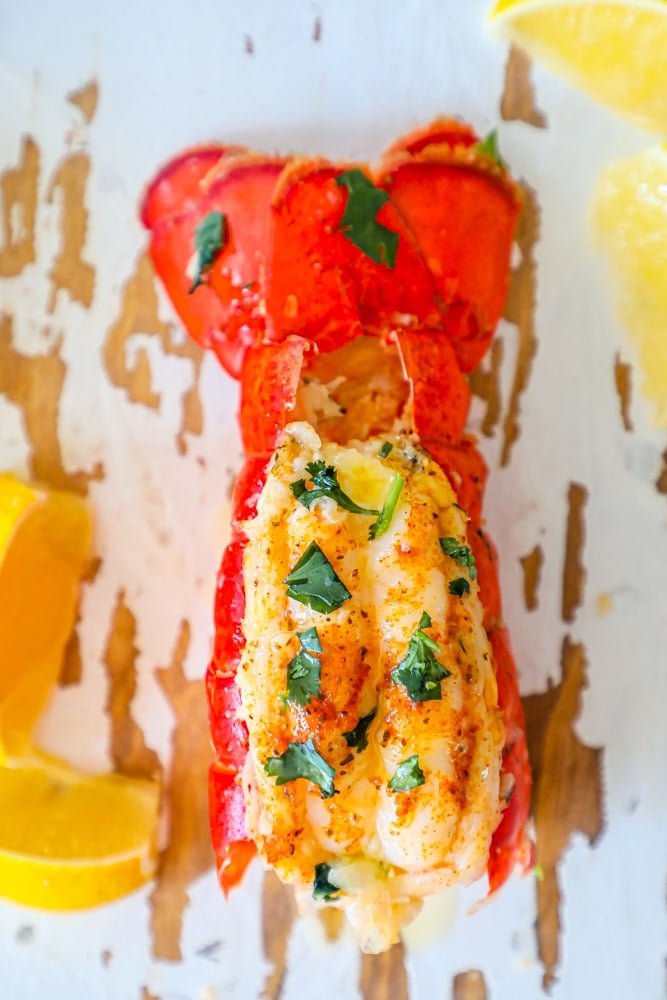 How To Cook Lobster Without A Fishy Smell
No gummy, dry, or fishy meat here - and this method won't stink up your whole house.
This is one of my favorite reasons to make oven baked lobster tails - no fishy smell!
This would be really fun for a romantic meal or dinner party- you can prep the tails and place in the refrigerator (I'd cover them to keep the lobster meat from absorbing fridge flavors) and pop them in the oven when it is time to eat.
By baking the lobster tail in the oven, you will avoid stinking up your house with a fishy smell.
Keeping a lemon wedge under the lobster tail also helps to cut down on any cooking smell.
How to Cook Lobster Tails In the Oven
It can sound tricky to learn how to cook lobster tails in the oven - but it actually couldn't be more simple, quick, and easy.
Baking or broiling lobster tails is a delicious, simple, mess-free way to make lobster tails every time.
The most important tips to remember when broiling lobster tails is to cut the shells well, exposing the lobster meat and making it easier to eat when cooked.
How to Cut Open Lobster Tails
A simple cut down the top of the shell is all you need to peel back your lobster tail for a beautiful presentation - cut it down the middle for a butterflied lobster tail.
Use sharp kitchen scissors or a sharp knife to cut the lobster tail and make a clean cut so you don't get any of the shell on the tail meat.
Cutting the lobster tail open before cooking will speed up your cooking process and make it easier to judge when the lobster tail has fully cooked - as well as give a chance for the lobster tail meat to soak up tons of deliciously rich flavor from the butter.
You can also easily tell when the lobster meat is opaque but opening the tail up, so you don't overcook your lobster tails!
I also try to remove the lobster tail from the shell where they are connected underneath - both to put a lemon wedge down to prop up the lobster as it cooks, but also to make it easier to eat when it is done.
How Long to Cook Lobster Tail in The Oven
This recipe calls for about 10 minutes of cook time - which will vary a bit based on the size of your lobster tail, your oven, and if you preheat the broiler fully before adding lobster tails to oven.
If you have a very large lobster tail it will take a bit longer - but smaller tails should be perfect at around 10 minutes.
Like most seafood, when overcooked, lobster and lobster tail is just a mess.
It is really a shame because it's so expensive- it ought to always taste fabulous!
These tips will keep your lobster tender, delicious, slightly sweet and not too fishy or gummy and tough.
How To Tell When Lobster is Cooked
You can tell a lobster tail has fully cooked when it turns opaque, white, and the shell turns bright red - and the meat has reduced slightly and become firmer.
To ensure your lobster tail is perfectly cooked, insert a digital meat thermometer into the fattest part of the lobster tail (take caution to keep the thermometer away from the shell.)
Fully cooked lobster will be 140-145 degrees internal temperature.
Your lobster shell will turn bright white and red when cooked, but look to the meat inside for the most reliable indication. If your lobster still looks grey it's not cooked - if it is white and pink, it's done.
Do NOT overcook lobster - it will result in tough, gummy meat and a fishier flavor.
How to Thaw Frozen Lobster Tails
While fresh is always best, fresh-frozen lobster tails taste just as delicious as fresh lobster tails that were trucked across the country to get to you and sit on a store counter for a few days - so being in a landlocked state like Colorado, I don't feel bad at all about grabbing frozen lobster tails.
Hot tip: Whole Foods often has frozen lobster tail on sale - watch for sales and stock up or buy ahead of an upcoming special event to serve lobster tails on a budget!
How To Cook Frozen Lobster Tails
Let frozen lobster tails thaw fully before cooking.
Pop frozen Lobster tails in the fridge the day before you make these.

You want frozen lobster tails to fully thaw before cooking.
Don't rush the thawing process in the microwave.
Defrosting lobster tails in the microwave will make the frozen lobster meat tough.
How To Serve Lobster Tail
Lobster tail can look a little wimpy on it's own sometimes, so if you're going for a romantic presentation of your lobster dinner and want to know how to wow guests, I have some great tips and tricks for you!
If you're looking for some delicious side dishes to serve with lobster tail, find our complete side dish recipe archive here.
For keto side dishes that are bursting with flavor, click here.
And for even more seafood ideas that pair with this lobster tail dinner, see our seafood recipe archives here.
How to Make a Lobster Tail Look Bigger
If your lobster tail looks a bit small in the shell after cooking, you can make it look a bit bigger and fuller by propping a lemon wedge underneath it.
I actually like to cook lobster tails with a lemon wedge underneath because it helps to hold the lobster tail's shape and make it look more full in the cooked shell - plus it helps keep the shell from spreading open (you can tell, in my older pictures from this recipe I didn't use this trick and the lobster looks a little wimpier in those pictures.)
How Lobster is Weighed and Sized
Despite being sold by the pound, a single 1-lb. lobster will weigh approximately 14 oz. when cooked.
Lobster will yield 3.5 to 4 oz. of meat when the shell is removed - and this holds true for tails too, as a decent amount of a Lobster tails weight is in the shell (don't worry you're wasting that great shell - you can use it in stocks or soups to get great lobster flavor to other dishes!)
How Many Lobster Tails to Serve Per Person
If you're making lobster tails as the main dish, you'll want to pay attention to the lobster tail size and weight to be sure you have enough lobster to fill you up.
In general, you should plan for about 8-10 oz of cooked lobster tail meat per person if you're serving lobster tails as your main dish - meaning two lobster tails per person, unless they are jumbo lobster tails.
Most often frozen lobster tails that are readily available in grocery stores (not from specialty fishmongers, who will have larger Maine lobster tails more readily) are around 4-6 ounces, so plan on about two per person if making lobster tail your main dish.
Keto Lobster Tails Recipe
If you're keeping a low carb diet, and nee romantic keto dinner ideas, this lobster is aa perfect recipe!
Lobster works well in a variety of diets, including keto!
Since this recipe uses just a tiny bit of seasoning, butter, and lobster - you don't need to worry about the carbs in this dish.

You can also find my garlic butter lobster tails recipe for an easy garlicky twist - or this lobster skillet for an easy keto lobster dinner with frozen picked lobster meat.
Other Easy Lobster Recipes You'll Love:
If you love these easy broiled lobster tails, be sure to check out these other amazingly delicious and super simple lobster recipes that are perfect for a decadent dinner, fast!
You can check out my Lobster Recipes here, or click individual recipes below:
To Make Broiled Lobster Tails, You'll Need:
This easy broiled lobster tail dinner is one of my all time favorite meals because it doesn't require anything fancy or any new equipment - even beginner home cooks probably already have all of the tools you need on hand.
Everything is easily found at any grocery store, even lobster tails in most stores!
Butter
Lemon wedges (optional)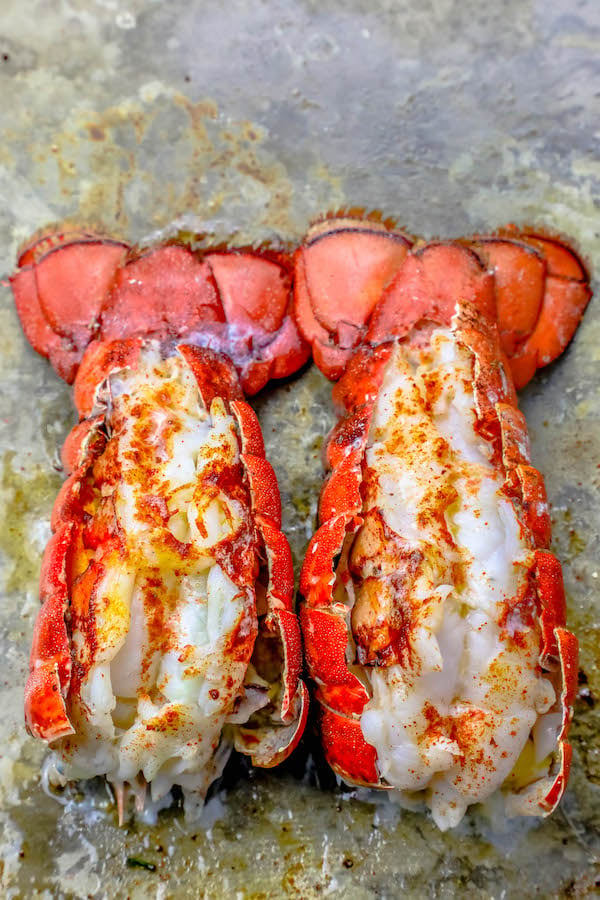 What Temperature To Broil Lobster Tails?
Set your oven's broiler on high - or between 400 and 500 degrees Fahrenheit.
Place your oven rack in the middle of the oven, so lobster tails don't touch broiler.
What To Season Lobster Tails With?
I use a little paprika, butter, salt, or Old Bay Seasoning to season lobsters.
Use just a pinch, but feel free to try other herbs and spices to your taste.
How To Tell When Lobster Tail Is Cooked?
Lobster meat will go from grey and translucent to bright pink and white and opaque when fully cooked.
What temperature is lobster fully cooked?
Lobster is fully cooked at 135-140 degrees Fahrenheit.
Be sure to visit our web story here.
The Best Easy Broiled Lobster Tails Recipe
If you love The Best Easy Broiled Lobster Tails Recipe as much as I do, please write a five star review (just click the stars below), and be sure to help me share on facebook and pinterest!
CONNECT WITH SWEET C'S!
Be sure to follow me on social media, so you never miss a post!
Facebook | Twitter | Youtube | Pinterest | Instagram
Only have 30 minutes to get dinner on the table? Sign up for my 30 minute dinner plans direct to your inbox!
Find and shop my favorite products in my Amazon storefront here!
Yield:

2 lobster tails
The Best Easy Broiled Lobster Tails Recipe
This 10 Minute Perfect Broiled Lobster Tails Recipe is the quickest, tastiest, and easiest way to cook lobster tails- get perfect oven broiled lobster tails every time! The best of the recipes to lobster tail in the oven for a restaurant style lobster tail dinner in under 10 minutes.
Ingredients
2 Lobster tails
1 ½ tablespoon butter, divided
pinch celtic sea salt
1 teaspoon garlic powder
1 teaspoon smoked paprika
½ teaspoon white pepper
Instructions
Preheat broiler to high.
Set lobster tails on a baking sheet or in an oven safe dish.
With sharp kitchen scissors or a knife, carefully cut the top of the lobster tail shell down to the tip of the tail, avoiding the meat. Devein and remove any grit if needed.
Carefully pull shell down, so meat looks like it is sitting on top of shell and open.
To make it look even better, slide a lemon wedge or two under the lobster meat in between the meat and the tail.
Mix spices in a small bowl.
Sprinkle with spices.
Add small pats of butter along the lobster tail.
Place in oven on an upper middle rack.
Let cook until meat is opaque and white, about 8-10 minutes.
Remove and serve immediately with drawn butter.
Nutrition Information
Yield
2
Serving Size
1 tail
Amount Per Serving
Calories

208
Total Fat

10g
Saturated Fat

6g
Trans Fat

0g
Unsaturated Fat

4g
Cholesterol

99mg
Sodium

554mg
Carbohydrates

5g
Fiber

1g
Sugar

0g
Protein

23g
Nutrition is automatically calculated by Nutritionix - please verify all nutrition information independently and consult with a doctor or nutritionist for any and all medical and diet advice.
Sweet Cs Favorite Recipes
If you loved this delicious easy lobster tails recipe, please check out some of my other favorite recipes.
Many of them are low carb - but all of them are easy, bursting with flavor, and so delicious!
Sweet C's Favorite Recipes
Favorite recipes from Sweet Cs Designs