The best Easy Cheesy Chicken Broccoli Soup - a delicious, hearty, creamy and broccoli cheese soup with tons of shredded chicken flavor that the whole family will love!
Naturally low carb cheesy chicken broccoli soup that is paleo and keto diet compatible.
Don't want all the extras in a recipe post? We provide a skip to recipe button in the top left corner, as well as a clickable table of contents, just below, to help make this page easier to navigate.
Easy Cheesy Chicken Broccoli Soup
This cheesy broccoli soup is packed with super delicious shredded chicken for a hearty, filling soup you won't be able to get enough of.
It's a take off my popular Creamy White Chicken Chili with broccoli -and it's absolutely packed with flavor.
This cheesy soup is naturally low carb, crazy comforting, and really filling - and it fits into a keto diet.
If you're looking for a delicious keto chicken and broccoli soup, you're in the right place!
I could eat this decadent soup every night and never get bored - it is just so easy and delicious, kind of like my keto broccoli pesto.
And if you want, you can toss all the ingredients in a slow cooker and heat for 4 hours on low, too! SO EASY! Be sure to look for the slow cooker instructions below.
If you're looking for an easier, quicker broccoli and cheddar soup, be sure to check out my Instant Pot Keto Broccoli Cheddar Soup Recipe.
How To Make Cheesy Chicken Broccoli Soup
Use the best chicken for soup. This recipe uses my Best Boiled Chicken Recipe Ever as the chicken for this dish.
While the name isn't the tastiest, this easy boiled and shredded chicken is a knockout for flavor and SO versatile in recipes.
This is a recipe you'll want to bookmark for years to come - don't forget to check it out (and really - you'll be shocked how easy and foolproof it is for perfect, juicy shredded chicken with almost no cleanup!)
Get the Best Boiled Shredded Chicken Recipe Ever here.
For another knockout chicken soup, please try my homemade chicken noodle soup, or this creamy white chicken chili.
Using Frozen Broccoli in Soup. If using frozen broccoli in this soup, be sure to let it thaw fully before adding. I personally love to use frozen riced broccoli along with some crowns - they cook faster since freezing helps to break down some of the vegetable's structure - and the broccoli the stores around me has had lately lacks the vibrant green I love!
Ps- if you want to try a different broccoli in your soup, this 10 minute broccolini recipe is a knockout and would be great chopped up in a more artisan style soup!
Tips to Perfect Cheesy Broccoli Soup & FAQs
Store it properly. If you're wanting to whip up a big batch of this soup, and freeze for later, you're in luck. This soup freezes fabulously - it is simple to toss in the freezer and reheat when you want a rich and comforting dinner. There are a couple tips to help freeze and reheat this soup for perfect cheesy chicken and broccoli soup every time:
Package soup in Ziploc bags closest to the amount you will use for one serving.
The smaller the bag, the more evenly the soup will freeze and prevent ice crystals from forming, making your soup less than appetizing when you reheat.
This also helps you reheat faster and more evenly.
Let soup thaw naturally. It tastes best when you pop in a pan to jut heatt to boiling hot, rather than cooking from frozen.
If cooking from frozen, I put the frozen soup in a pot with about ¼ cup water and boil until hot - just be sure to stir occasionally and make sure nothing burns.
If heating this way, I find it is best to keep the lid on your pot.
Don't save frozen leftovers for over three months.
Find the right cheese. To make this soup perfectly smooth and velvety, there is a bit of a process and a couple choices to make in what kind of cheese you use.
First and foremost, you need to pick a cheese that melts well - and isn't too dry or oily. For soups, I like to use cheddar, mozzarella, a creamy pepper jack, and - Velveeta. I know Velveeta isn't healthy or natural or low calorie - in any way - but it makes for perfect melting and incorporating into soup.
With natural cheeses, you neeed to stir carefully and incorporate well so it doesn't clump or burn on the bottom of the pan - but velveeta mixes in magically with no effort. Of course, if you are watching your diet to only eat natural foods, go for the cheddar - but if you're just looking for something super easy, creamy, and cheesy - go ahead and use the Velveeta.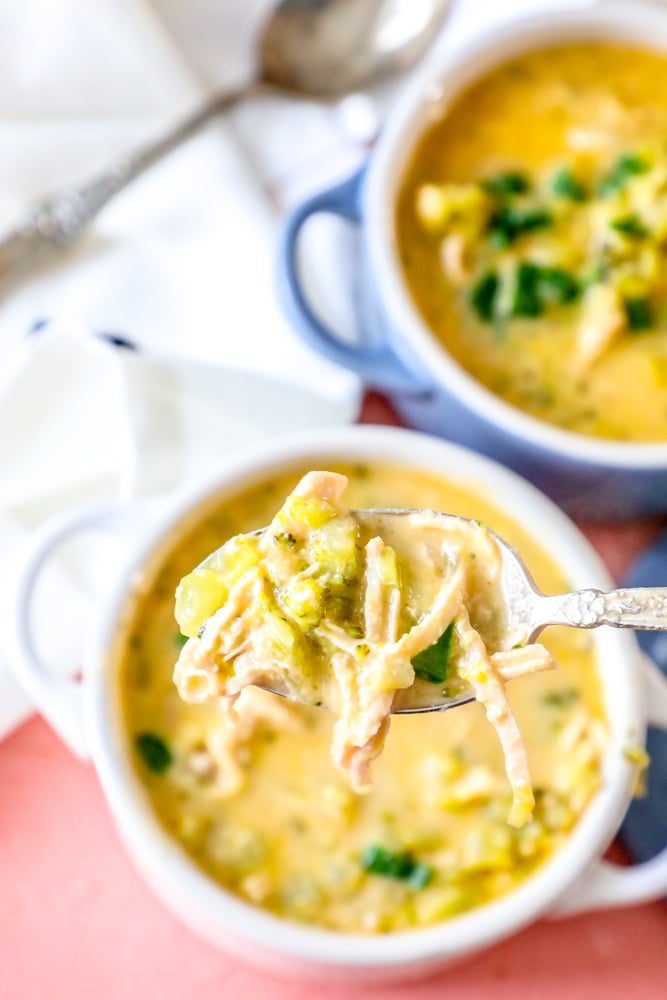 Recipe FAQ's
Can I use rotisserie chicken in this soup?
Absolutely, You can use a rotisserie chicken from the grocery store - simply remove skin and shred.
Can I make this soup in the Instant Pot?
Yes, this soup is easy to make in the Instant Pot. Sautee vegetables and be sure to deglaze bottom of pan well so there are no stuck on bits.
Add all ingredients to soup but cheese and cook on high pressure for 5 minutes.
Quick release and stir in cheese until melted, serve immediately.
Can I use frozen broccoli crowns in the soup?
Using frozen broccoli works fine in this soup. If you have any problems be sure to scroll up to my tips for using frozen broccoli.
Can I make cheesy broccoli soup in the slow cooker?
To make this soup in a slow cooker, dump the ingredients in and cook on low for 3-4 hours, stirring occasionally to make sure its well mixed and not burning on the bottom of the cooker.
Stovetop tastes best, but your slow cooker will do just fine. If you can brown vegetables before adding to the slow cooker, it will taste the best - browned vegetables = tons of flavor!
What To Serve With Broccoli Cheddar Soup
This cheesy chicken broccoli cheddar soup is incredibly delicious - especially with a dunkable bread or breadsticks alongside!
Whether you want some carby-goodness to soak up the cheesy broth, or some savory and delicious veggies to go along side, I have the best side dishes for this broccoli cheddar soup below:
Cheesy Chicken Broccoli Soup Recipe
If you love this easy cheesy chicken broccoli soup recipe as much as I do, please give it a five star rating and help me share on facebook and pinterest!
CONNECT WITH SWEET C'S!
Be sure to follow me on social media, so you never miss a post!
Facebook | Twitter | Youtube | Pinterest | Instagram
Only have 30 minutes to get dinner on the table? Sign up for my 30 minute dinner plans direct to your inbox!
Find and shop my favorite products in my Amazon storefront here!
Yield:

6
Easy Cheesy Chicken and Broccoli Soup Recipe
Easy Cheesy Chicken Broccoli Soup Recipe - a delicious, hearty, creamy and cheesy broccoli soup with tons of shredded chicken flavor that the whole family will love! Naturally low carb cheesy chicken broccoli soup that is paleo and keto diet compatible.
Ingredients
2 tablespoon butter
1 onion, diced
3 cloves garlic, diced
1 shallot, diced
1 teaspoon sea salt
½ teaspoon fresh cracked pepper
8 oz broccoli crowns, riced
1 stalk broccoli, diced
48 oz chicken stock
8 oz cheddar cheese or velveeta
4 oz heavy cream
¼ cup grated parmesan
Instructions
In a large pot, let butter melt on medium high until foamy.
Add onion and let brown and soften, about 6 minutes stirring occasionally to prevent burning.
Add garlic and shallot and cook until just fragrant and soft, about 3 minutes.
Add in riced broccoli crowns and diced broccoli stock, toss and let cook until bright green and shiny - slightly soft - about 4 minutes, stirring occasionally.
Stir in stock and velveeta and bring to a rapid boil.
Reduce heat to simmer 10 minutes.
Turn heat off and stir in heavy cream, parmesan, salt, and pepper whisking as you add into the soup.
Return to medium heat and let simmer until thickened, about 5 minutes. Taste and adjust seasonings as you like.
Add the pre-cooked boiled chicken to the soup and stir to combine.
Serve immediately and enjoy!
Nutrition Information
Yield
6
Serving Size
1
Amount Per Serving
Calories

447
Total Fat

30g
Saturated Fat

17g
Trans Fat

1g
Unsaturated Fat

11g
Cholesterol

101mg
Sodium

1201mg
Carbohydrates

19g
Fiber

3g
Sugar

7g
Protein

25g
Nutrition is automatically calculated by Nutritionix - please verify all nutrition information independently and consult with a doctor or nutritionist for any and all medical and diet advice.
Sweet C's Favorites
If you love this easy broccoli and cheese soup recipe, please check out some of my other favorites.
Many are low carb, all are quick, easy, and full of flavor!
Sweet C's Favorite Recipes
Favorite recipes from Sweet Cs Designs