Green chili whiskey onion burgers are rich, smoky, sweet, and a little spicy - with no grill needed! Tons of southwestern flavor in every bite.
In Colorado, there is one ingredient that we seem to love more than anything.
It's in eggs, burritos, tacos, on hot dogs and burgers... pretty much anywhere you look, it is there.
This magical stuff? Green chilis.
There is nothing like delicious smoky and slightly spicy green chili in all sorts of recipes - it's a quintessentially Denver ingredient (never mind the fact we use green chilis from New Mexico... it is still very much a part of Colorado cuisine.)
Here at Sweet C's, we have lots of types of readers - those who like to get straight to the recipe, and those who would like more information, including tips and tricks to feeling more comfortable in the kitchen.
We provide a skip to recipe button in the top left corner, as well as a clickable table of contents, just below, to help make this page easier to navigate.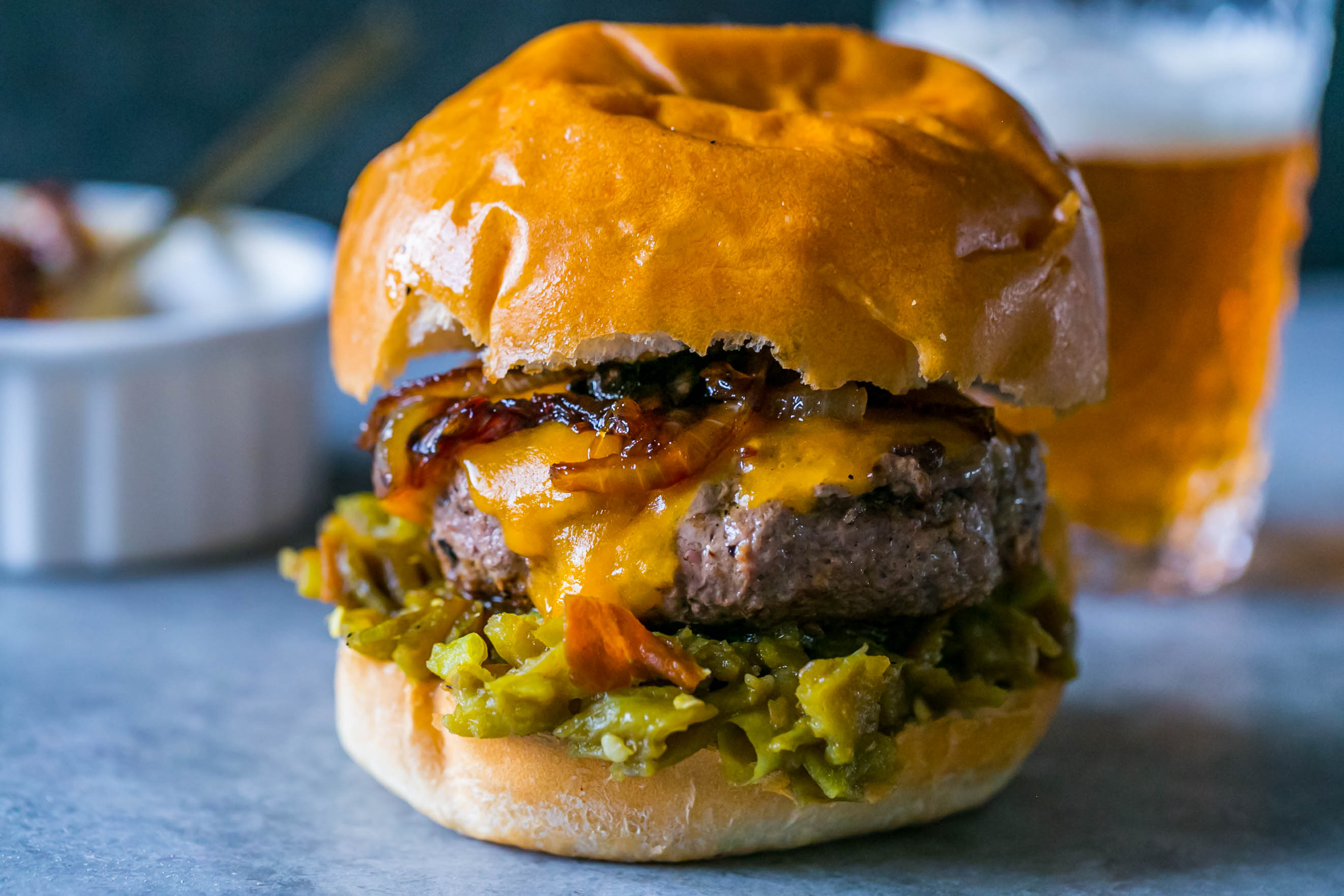 How To Pan Fry Hamburgers
It's not always easy to get that perfect grilled burger flavor indoors - but it can be with the right tips and tricks!
While I love having burgers often, they are kind of a pain in the butt on days it's raining or I don't want to turn on the grill - so pan fried hamburgers are a huge staple in our house. They are juicy, caramelized, rich, and full of meaty flavor just like burgers off the grill - no charcoal or propane needed!
These hamburgers are perfect just in a pan - I'm using my best pan grilled burger method to make pan fried hamburgers great.
Don't crowd the pan with too many burgers.

Adding too many burgers to a pan will cause your burgers to steam, instead of brown. This will make your burgers tougher, and they won't have a lovely browned appearance - they will look a bit grey.
Prevent this by giving burgers enough room in the pan to keep the pan at high heat - cook in batches instead of adding all in at once if needed.

Use butter.

I love the rich salty flavor pan frying burgers with just a little butter in the pan gives this dish.

Use high heat.

Burgers should be fried - not steamed or slowly pan-roasted for the best juicy never-dry flavor.
Use high heat to cook your burgers fast for the best flavor.

Steam the cheese.

If you're pan frying burgers and adding cheese, try placing the cheese on the burger, adding 1 tbsp water to the pan, and adding a lid over the pan to steam the cheese, making it perfectly melted.
Honey Whiskey Caramelized Onions
These burgers use my whiskey honey onions recipe - they are smoky, sweet, and SO delicious - they will become your favorite caramelized onion recipe, ever!
To get my hands-down absolute favorite recipe for caramelized onions, please head here.
Don't those caramelized onions look heavenly?
They taste smoky, sweet, salty, and buttery - they are the perfect topper for any burger, but especially spicy burgers with green chiles like this green chili whiskey onion burger!
What to Serve With Pan Fried Burgers
These delicious side dishes are guaranteed to wow your family - they are simple, easy, and bursting with flavor!
Crispy Baked Shoestring Sweet Potato Fries
You can find our complete side dish recipe index here.

For the green chilis, I find the frozen kind in my grocery store and sauté them with garlic powder, butter, and a sprinkle of cumin. It makes them extra smoky and delicious!
We have several local grocery stores in Northern Colorado that fire roast green chilis every year and then sell them - or freeze the smoked chilis and then sell them throughout the year - I always try to stock up when they come out with the next years batch!
But you can also just use chopped green chili, or even green chili sauce!
I like Hatch 505 Honey Green Chili Sauce, affiliate link above with my burger making favorites, like an amazing burger press, my favorite heavy iron pan, and burger shapers!!!
Green Chili Whiskey Onion Burgers Recipe
If you love this easy recipe please click the stars below to give it a five star rating and leave a comment! Please also help me share on facebook and pinterest!
CONNECT WITH SWEET C'S!
Be sure to follow me on social media, so you never miss a post!
Facebook | Twitter | Youtube | Pinterest | Instagram
Only have 30 minutes to get dinner on the table? Sign up for my 30 minute dinner plans direct to your inbox!
Find and shop my favorite products in my Amazon storefront here!
Yield:

4
Green Chili Whiskey Onion Burgers
Green chili whiskey onion burgers are rich, smoky, sweet, and a little spicy - with no grill needed! Tons of southwestern flavor in every bite.
Ingredients
1 batch whiskey honey onions
1 lb beef, shaped into 4 patties
1 tbsp ghee
salt and pepper, to taste
sharp cheddar cheese, optional
4 brioche hamburger buns
For the green chili:
1 cup diced green chilis
1 tbsp garlic powder
1 tsp cumin
1 tbsp butter
OR ½ cup green chili sauce per burger
Instructions
In pan you used to make whiskey honey onions (DONT CLEAN PAN AFTER MAKING, it will give more flavor to the burgers), melt ghee over medium high heat.
Shape burgers into patties (I like to use a burger press).
Generously season burgers with salt and pepper.
Add burgers to pan when ghee is melted, and cook 5 minutes on each side.
When burgers are done to your liking, add a slice of cheese (if desired), and add lid to pan to melt cheese.
When cheese is melted, remove from pan.
Add green chilis to burger bun and place burger on top.
Garnish with onions, place bun on top, and serve immediately!
For the green chilis: sauté in pan with butter, garlic powder, and cumin until hot. Use as burger garnish; OR add sauce to burger bun.
Nutrition Information
Amount Per Serving
Calories

366
Saturated Fat

12g
Cholesterol

97mg
Sodium

109mg
Carbohydrates

4g
Sugar

1g
Protein

20g