This One Pot Chicken and Butternut Squash Risotto is a delicious, easy fall meal you can prepare that your whole family will love.
If you're new here, you might not know that our family has an obsession with risottos. We have a One Pot Chicken Risotto, an Antipasto Risotto, and a Jambalaya Risotto that have all shown up here on the blog. Why are risottos such a hit here? They are creamy, relatively easy to make (you do have to stir a lot, but that's it for technical skills), it makes a big batch that works well for leftovers, it is totally adaptable to different meats and vegetables, and it is full of fresh, healthy ingredients that my kids don't notice.
Give my kids a pile of butternut squash and mushrooms, and they turn up their noses. Add in some chicken, rice and make it creamy? It's like a yummy cousin to their favorite meal, mac n cheese. Last time I made this risotto my 1 year old actually finished her whole plate and half of mine!
This version is sweeter than the original risottos because of the butternut squash- and makes it particularly kid-friendly. If you have another squash on hand you could add that instead- acorn, pumpkin or a similar sweet squash would work well. You could also add in frozen or fresh peas, celery, zucchini or other veggies as you'd like. This recipe is totally adaptable, so try what you like!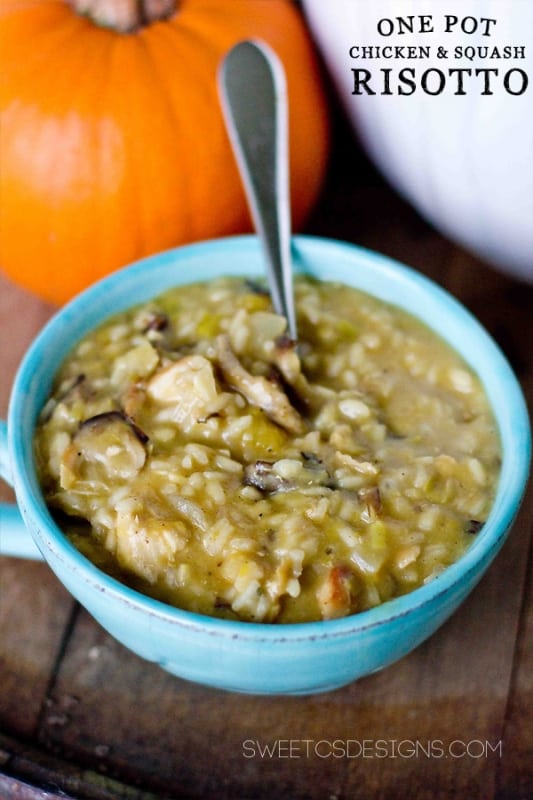 Yield:

6 -8 servings, depending on the size of the squash
One Pot Chicken & Butternut Squash Risotto
Cook Time:
1 hour
40 minutes
Total Time:
1 hour
50 minutes
One pot chicken and squash risotto is a delicious, hearty, slightly sweet, creamy fall dish that incorporates lots of fresh ingredients for a meal your whole family will love.
Ingredients
1 butternut squash
2 chicken breasts, diced to 1" cubes, seasoned with salt and pepper
1 large onion, diced
2 large leeks, diced (be sure to wash and only use white parts)
2 1/2 cups arborrio rice
2 packages chicken stock, lower sodium is best
3 tbsp butter
olive oil
salt
pepper
1/2 cup heavy cream, or whole milk in a pinch, but cream is best
dry vermouth, optional- 1/2 cup
2 tbsp sage, diced (fresh is best)
Parmesan Cheese, optional
Instructions
Halve and de-seed the butternut squash.
Bake for 40 minutes to one hour until squash is soft.
When soft, remove squash skin and dice into 1" chunks, set aside.
Heat a large pan or ceramic dutch oven over high heat.
Add 1 tbsp olive oil.
When oil is shimmery, add diced chicken.
Cook until browned on all sides.
Add diced onion and leeks.
When vegetables are slightly browned, add butter and stir.
Lower heat to medium-low, add rice, stir well.
Let rice brown just slightly (think "toasted" for a little flavor).
Add in butternut squash.
Add a little bit of stock and vermouth (optional!!)- just enough to keep the consistency liquid.
Stir frequently until rice thickens.
While risotto is cooking, sautee mushrooms in a hot pan with 1 tbsp butter until brown. Set aside when fully browned.
Add a little more stock until it is just barely liquid. Repeat stirring frequently until thickened and adding just enough stock to keep it from burning or becoming too thick.
Realistically, using a regular sized container of stock, you'll use it in about 6ths or 8ths.
When your stock is gone, and the risotto has become thicker, taste a bit of it.
If the rice is too crunchy for your taste, add a little water and proceed with the steps above. Risotto should be slightly al dente- just a slight, teeny crunch when bit. If you over cook the rice, it will become a bit gummy- but its all individual tastes.
Add sauteed mushrooms before your risotto is done cooking- you won't want them to overcook and become gummy.
When risotto is thick enough to not spread all over a plate, but not so thick you can shape it like mashed potatoes, it is ready.
Stir in sage, salt and pepper to taste.
Serve when warm.
Grate fresh parmesan cheese over the top and enjoy!