I love all things glamorous with a bit of a rustic touch, especially for weddings.
Burlap and lace, crystals and worn wood- it makes for such a warm, inviting and home-like feel to any event. And what is better than to feel at home- and glamorous- than at a wedding?
This ring pillow is a fun and easy twist off my basic burlap ring pillow design, and will follow that tutorial.
For detailed steps, please visit the first post and become familiar with how I make my basic, standard ring pillow.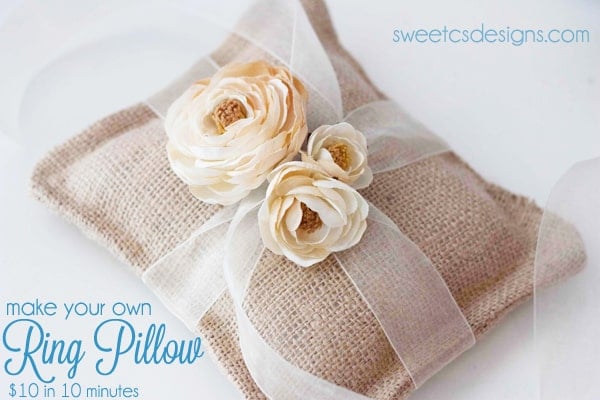 Now that you've read that post, let's get down to it.
You'll need:
-7×7 or larger squares of burlap (2)
-jute twine
-two strips of wide satin ribbon just wider than your burlap squares
-crystal brooch, (pictured is from the David Tutera Bridal Collection, available at your Michaels or other local craft store).
Before sewing anything, you'll want to lay the two pieces of satin ribbon across one square of burlap that slightly overlap (so they look like one fat width of ribbon). It doesn't matter if you lay the ribbon side up or side down, but you will want it on burlap that will be the outside (in case your burlap has an imperfection you're trying to hide- just be sure to lay the ribbon on the other side without what you're hiding.
Lay the other burlap square on top of the ribbon (to make a little ribbon sandwich inside the burlap squares), outside face down towards the ribbon.
Stitch up three sides of the pillow, making both sides of the ribbon are being sewn.
Turn inside out making sure the shiny side of the satin ribbon is facing up, and finish through the steps outlined in the basic burlap ring post.
Tie a piece of jute twine in the middle of the satin ribbons to pull them together and pin in place using a large crystal brooch.
Want some more fun wedding ideas to match the rustic elegant feel? Check out this His & Hers Rustic Bling Barrel Bar I set up with some amazing accents from the David Tutera line!!